Tryst is the annual technical festival of the Indian Institute of Technology, Delhi. The festival is the largest technical fest of North India and receives a huge footfall of more than 45,000 people around the globe, every year. Highly popular and acknowledged, the festival is entirely organized by the student body of IIT Delhi and serves as a perfect launch-pad for technology enthusiasts to showcase their intelligence and technical acumen. In the past, the festival has hosted several eminent personalities such as Steve Ballmer, Horst Koehler, Jeff Lieberman, Harry Marshall and Ryoji Noyori.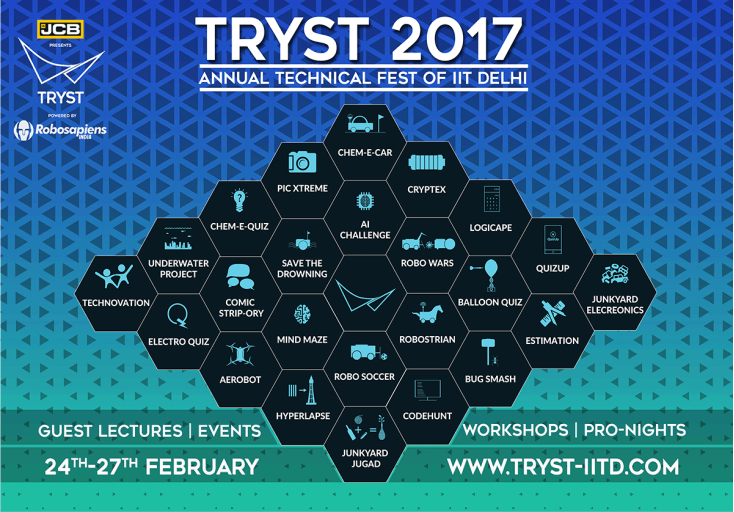 Tryst 2017 will be held from 24th Feb – 27th Feb 2017, and will feature an impressive line-up of more than 50 Sci-Tech events including Seminars, Lectures, Workshops, Exhibitions, and Competitions. The event has been growing in stature and popularity ever since its inception. This year, the festival has some amazing minds of the world like Richard Muller, Mark Edward, Ulrich Bez, R. Chidambaram and much more coming to share their knowledge with the students. This year, the team has invited women achievers from ISRO to share their experiences with the students. What's more, to add to the technical atmosphere, the cultural extravaganza acts as the topping on the cake, with the festival having several pro-nights, featuring Tron Dance, Digger Dance, and the world's first Visual DJ Afishal.
The festival will kick off with an inauguration on the 23rd of February, 2017, and is expected to pull massive crowds from over 300 prestigious technical colleges and schools across the country with a hope to leave every audience wanting for more. This year, the festival is set to be the biggest and the best and is set to enthrall everyone alike.