Bharat Interface for Money (BHIM) is an activity to initiative quick, secure, solid cashless payments through your smartphones. BHIM is interoperable with other Unified Payment Interface (UPI) applications, and bank accounts. BHIM is developed by the National Payment Corporation of India (NPCI). BHIM is developed in India and committed to the administration of the country.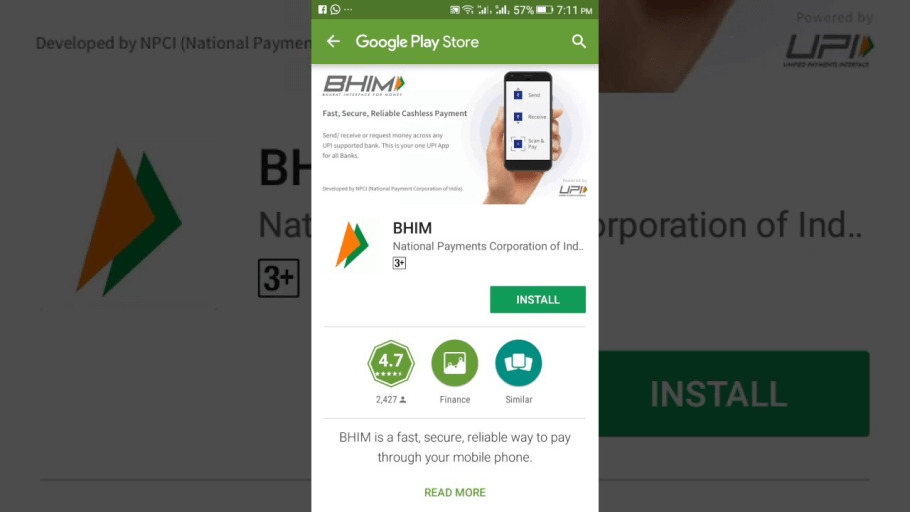 How does it work?
Register your bank account with BHIM, and set a UPI PIN for the bank account. Your mobile number is your payment address (PA), and you can simply start transacting. Yes! It is that simple.
Send / Receive Money: Send money to or receive money from friends, family and customers through a mobile number or payment address. Money can also be sent to non-UPI supported banks using IFSC and MMID. You can also collect money by sending a request and reverse payments if required.
Check Balance: You can check your bank balance and transactions details on the go.
Custom Payment Address: You can create a custom payment address in addition to your phone number.
QR Code: You can scan a QR code for faster entry of payment addresses. Merchants can easily print their QR Code for display.
Transaction Limits: Maximum of Rs. 10,000 per transaction and Rs. 20,000 within 24 hours.
Language Supported: Hindi and English. More languages coming soon!